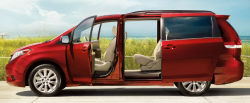 — Toyota is conducting a small recall of 263 model year 2014 Sienna minivans because they could roll away due to transmission problems.
Toyota says the defect is caused by a transmission shift control cable with a damaged protective cable sleeve. The cable can break and cause the gear shifter to give false information as to gear selection. That means putting the Sienna in what you think is drive only to hit the gas pedal and fly backward in reverse.
Additionally, once you get the minivan stopped, the gear shifter could show the transmission is in "park" when it's not. That's where the phrase "roll away" enters the picture.
The recall should begin this month. Toyota dealers will inspect and if needed, replace the transmission shift control cable.
Affected owners of the 2014 Toyota Sienna can call customer service at 800-331-4331.