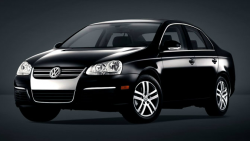 — Owners of the 2005-2006 Volkswagen Jetta have complained for years about defective door wiring harness assemblies that cause failures of the door locks and windows. Some owners have alleged the wiring harness can cause additional electrical problems with the trunk and alarm system.
Here's a few complaints submitted to CarComplaints.com about the 2006 VW Jetta wiring harness problems.
"Poor design should be a recall. Wiring harness is too damn short. 587.00 for new harness. had to solder wires and extend to make it work. Pain in the stern!" - Little Egg Harbor, New Jersey
"My electrical system has gone haywire lately....had to replace the moonroof switch and this morning the driver's door is DEAD!!! I'm guessing from what I've been reading it's the wiring harness....does anyone know if there was a recall for this??" - Freeport, New York
"The driver's side window, locks, trunk and gas release in my vehicle stopped working completely. When I took the vehicle to the dealer they told me the cause was a faulty driver's side door harness. There were several wires that were broken or about to break, and they suggested I replace it immediately. I was quoted over $400 for parts and labor." - Jacksonville Beach, Florida
"The wiring for the door lock actuator on the drivers side door has a short that caused the alarm to go off sometimes. According to some googling the cause of the problem is that the wires are too short so they get stretched when you open and close the door. The dealer wanted $500 to fix it and I told them to skip it." - Durham, North Carolina
Affected Jetta owners might soon get relief as a federal judge granted preliminary approval to a class-action settlement between VW and Jetta owners. The $43 million settlement won't be finalized until the end of this year, but if it's approved Jetta owners will receive one of two benefits.
The settlement grants about 125,000 members of the class-action a choice of $345 or an extended warranty. If a door wiring harness has already been repaired by a dealer, Jetta owners can receive up to $345. Owners who haven't had their cars repaired yet will receive an extended warranty of 8.5 years or 100,000 miles.
The case was brought by lead plaintiff Jemeliah Sade Smith who said the wiring harness was defective, and although the judge said the harness had problems, it wasn't considered a safety defect.
Affected Jetta owners should receive mailed notification by August 1, 2014.