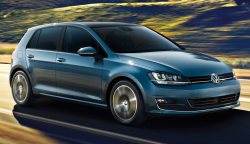 — Steering problems have caused Volkswagen to order a recall of 2,000 of its newest model year cars, the 2015 VW Golf and 2015 VW GTI.
VW discovered the defect during a routine test drive in March 2014, when the driver heard loud noises coming from the front of the vehicle. An internal investigation found a problem during manufacturing that can cause the stabilizer link fasteners to come loose.
A loose stabilizer link will cause sudden steering problems and possibly such a problem that handling the car could be next to impossible.
The affected Golf and GTI cars were manufactured January 27, 2014, to May 12, 2014.
VW decided to recall the cars on June 30 and recall notices should be in the mail. Volkswagen dealers will replace the front stabilizer links to keep the cars on the road.
Owners of the 2015 VW Golf and 2015 VW GTI can contact Volkswagen customer service at 800-822-8987 and give them recall number 40K9/1W.