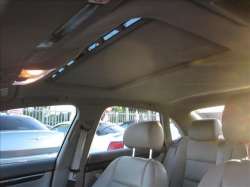 — It's taken six years, but owners of Volkswagen and Audi vehicles who complained about leaking sunroofs will finally get some relief. The U.S. Court of Appeals for the Third Circuit has approved a $69 million settlement stemming from a class-action lawsuit that started in 2007.
In 2007, two class-action lawsuits were filed against Volkswagen alleging certain Volkswagen and Audi vehicles had defects in the design of the sunroofs. According to the lawsuits, water would leak into the vehicles when the exterior of the sunroof got clogged by debris and pollen.
The plaintiffs alleged Volkswagen failed to let customers know that regular cleaning could prevent the problem but didn't because that would mean admitting there was a defect in the design.
The separate lawsuits were later consolidated and included the 1997-2005 Volkswagen Passat, Jetta, New Beetle, Golf and Touareg, and 1997-2005 Audi A4, A6 and A8 models.
The lawsuit alleged a clogged pollen filter prevented water from draining to the ground. Additionally, clogged drain holes meant water couldn't flow away from the sunroof mechanism. The alleged defects caused water to drain onto the dashboard damaging electronic components or destroying the carpet.
It's a problem CarComplaints.com is familiar with because upset owners of the affected vehicles have complained for years about the problem.
Phyllis, of Bronx, N.Y., said she started to smell mold in her 2002 Volkswagen Passat but had no idea what was causing it. Then she found the carpet wet in the right passenger area and even after trying to use a towel to absorb the water, days later the water would return.
"Everyone I talked to couldn't understand what it could be coming from and was mystified. I finally realized after a really bad rain in which the footwell filled up again and was soaking wet that there was some connection. [I] came across someone who described the same problem and she was told by the VW dealer that it was due to the sunroof and the drain line was clogged. She said it eventually messed up her transmission module. Great!"
The class-action suit included over five million members and three million vehicles. Read more about the case, Dewey v. Volkswagen here (PDF.)