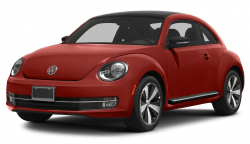 — Volkswagen is recalling 442,000 VW Beetle, Beetle Convertible and Jetta cars because of problems with the rear suspension trailing arms. The automaker says the recalled cars are the 2011-2013 Volkswagen Jetta and the 2012-2013 Volkswagen Beetle and Beetle Convertible.
VW says it's possible a rear or side impact could damage the trailing arms and without repairs, the suspension trailing arms can break. A busted trailing arm will cause serious problems trying to control the car, however, VW says it is unaware of any accidents or injuries related to the defect.
In what has to be one of the most unusual recall repairs ordered by a car manufacturer, VW dealers will inspect the rear suspension in cars that have been involved in accidents. If dealers do not see evidence of damage to the trailing arms, a sheet metal inlay will be installed on the rear trailing arms.
The purpose of the sheet metal? If a car is later involved in a side or rear crash, VW says a distinctive sound will drive you nuts to constantly remind you to take the car back to a dealer for another inspection of the rear suspension.
Volkswagen has notified the National Highway Traffic Safety Administration about the recall but a recall schedule hasn't been released. Owners of the affected 2011-2013 Volkswagen Jetta and 2012-2013 Volkswagen Beetle/Beetle Convertible should watch for mailed notification from VW.
CarComplaints.com will have more information when it's available.
Read complaints as submitted to CarComplaints.com about the VW cars named in the recall: