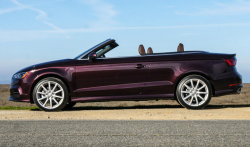 — Volkswagen is recalling over 900 model year 2015 Audi A3 Cabriolet cars with seat covers that may keep the side airbags from properly deploying. Audi blames the supplier for making changes that had not been not approved by Audi during seat cover production.
Audi first discovered the problem when the seat supplier Lear noticed problems with side impact airbags during routine testing. Audi opened an investigation and used a crash test car as an example of the problem. Audi determined the supplier used seat cover stitching that was out of specification for the driver's or front passenger seats.
The wrong stitching can cause problems when the side impact airbag deploys in a crash, possibly failing to protect an occupant. However, Audi says it doesn't know of any accidents or injuries related to the seat covers.
The recalled cars were manufactured June 5, 2014, to April 1, 2015.
Owners of the 2015 Audi A3 Cabriolet should be notified of the recall in February 2016. Audi dealers will replace the driver's and/or front passenger-side seatback cover.
If you own one of the model year 2015 Audi A3 Cabriolet cars and have questions, contact Audi at 800-822-8987 and use the recall number of 74C9.
Have a car complaint to add? Add your complaint here, about any vehicle.