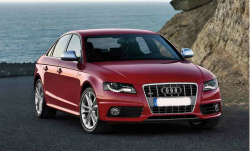 — An Audi A4 oil consumption lawsuit has received final approval by a California judge, although Audi denies any wrongdoing in the case. The class-action lawsuit accuses Audi and Volkswagen of manufacturing cars that drink engine oil at alarming rates.
The finalized settlement applies to owners and lessees of the 2009-2011 Audi A4, 2010-2011 Audi A5 and the 2011 Audi Q5 equipped with a factory-installed 2.0 liter TFSI longitudinal engine CAEB. All affected cars must have been sold or leased in the U.S. or Puerto Rico.
Although Audi agreed to settle the case and the judge approved the settlement, the judge said the automaker raised important defenses:
All cars use oil and any actual oil consumption issues have been disclosed in the Audi owner's manuals.
The engine warning light comes on in advance to warn the oil is running low, so plaintiffs would have a tough time showing the alleged defect is a safety issue.
Oil consumption is a maintenance issue, therefore plaintiffs cannot establish a defect exists.
Members of the class-action lawsuit will be entitled to 100 percent reimbursement of the parts and labor for prior oil consumption repairs made by an authorized Audi dealer. The agreement will not apply if a customer has already been reimbursed by the automaker or any third party.
The "new vehicle limited warranty" will be extended to cover engine repairs needed to correct oil consumption. The warranty will be extended to 8 years or 80,000 miles, whichever occurs first. The Audi owner will need to show proof of oil and oil filter maintenance that matches what the owner's manual recommends.
Additionally, the extended warranty will cover any oil consumption tests performed by Audi dealers in connection with the extended warranty.
Owners of the 2009-2011 Audi A4, 2010-2011 Audi A5 and the 2011 Audi Q5 must submit all claim forms by June 27, 2015.
Owners can learn more by visiting OilConsumptionSettlement.com. Audi owners will need to carefully read about the documentation that must be submitted to properly submit a claim.
The Audi oil consumption lawsuit was filed in the U.S. District Court of the Central District of California - Ali Asghari, et al. v. Volkswagen Group of America Inc, et al.
Read what owners say about the cars named in the Audi A4, A5 and Q5 oil consumption lawsuit: