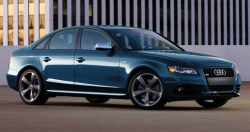 — Volkswagen and Audi are recalling 26,000 vehicles that could catch fire because of a fuel leak. The recalled models are the 2011-2012 Audi S4, S5, Q7, the 2012 Audi A6, Volkswagen Touareg Hybrid and the 2012-2013 Audi A7.
The first customer complaints were recorded in August 2013, when Audi and VW owners said there was a strong smell of fuel coming from the engine compartments. Field investigators checked the engines and related parts but found no problems. Additional investigations further found no problems.
However, a later analysis concluded if the fuel injector valve is out of position during driving, a leak can occur at the connection between the fuel rail and the injector. Any fuel near an ignition source will be a serious fire risk.
The VW/Audi recall will begin March 10, 2015. Dealers will replace the fuel rails and seals to make sure no fuel can leak.
Owners of the Audi S4, S5, Q7, A6, and the Audi A7 can contact Audi at 800-822-2834 and refer to recall number 24AP.
Owners of the VW Touareg Hybrid can contact Volkswagen customer service at 800-893-5298 and give them recall number 24BK.