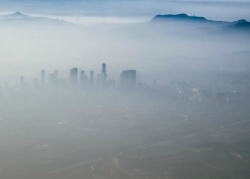 — With the revelation that Volkswagen's "CleanDiesel" technology has been anything but clean, governments across the world have opened investigations into how VW fooled the system repeatedly for years.
With its admission that 11 million vehicles globally have sophisticated software to fool official emissions tests, one U.S. state more than any other is dealing with the aftermath of Volkswagen's fraud.
California is the only state that has the legal right to create its own emission laws, then adopted by the California Air Resources Board (CARB). Automakers must always meet federal emission regulations, but every automaker must typically meet more stringent laws in California and any state that has adopted and implemented California standards.
While Volkswagen was fooling the system with faulty emission tests, California was the prime location for VW to sell cars based on its alleged "CleanDiesel" technology. Now that VW has been caught cheating the machines by using a "defeat device," the automaker has become Public Enemy No. 1 to California environmental authorities.
CARB sent a letter to Volkswagen on September 18, 2015, that essentially created a deadline the automaker apparently has no chance of meeting, at least according to German media sources.
German media says as part of a compliance letter sent to VW by CARB, Volkswagen has until November 20, 2015, to submit a plan to fix the emission systems in diesel cars. CARB sent the "in-use compliance" letter that allegedly gives VW 45 days to come up with a fix or face the consequences. However, German media didn't report what the consequences will be if VW doesn't meet the deadline.
But according to a new lawsuit filed in California, one consequence should be the immediate buyback of all affected VW diesel vehicles.
The suit, filed by Hagens Berman and Quinn Emanuel, demands VW immediately begin a vehicle buyback program for California consumers. The lawsuit was filed after VW admitted the soonest it will recall its U.S. vehicles is 2016 and the recall could take years to complete.
Saying VW diesel owners shouldn't have to wait months or years for their cars to be fixed, the lawsuit alleges the vehicles should have never been sold because they were never intended to meet California emissions standards.
In addition, the buyback program should be implemented because all affected VW cars violate the manufacturer's warranty. The lawsuit alleges VW violates the warranty because none of the diesel vehicles conform with California Air Resources Board regulations.
"Under applicable California express warranty law, VW must 'promptly' offer to accept the return of non-conforming vehicles and to provide replacement vehicles or restitution of the purchase price (among other remedies) unless it can make them 'conform to the applicable express warranties after a reasonable number of attempts.'"
According to the EPA and CARB, Volkswagen installed its deceptive software in at least the following diesel models:
2012–2015 VW Jetta and Jetta Sportswagen CleanDiesel
2012–2015 VW Beetle and Beetle Convertible CleanDiesel
2010–2015 Audi A3 TDI
2010–2015 VW Golf and Golf Sportswagen CleanDiesel
2014–2015 VW Passat CleanDiesel
For its part, CARB said a previous Volkswagen emissions recall has been deemed "ineffective" and "unapproved" for California consumers, and the use of the defeat device means the vehicles should have never been certified to sell to the public.