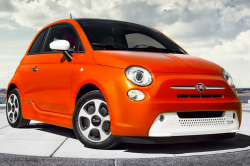 — Chrysler (FCA US) is recalling 5,660 model year 2013-2015 FIAT 500e (electric) cars that can shut down due to software problems.
The problem is software incompatibility between the electric vehicle control unit (EVCU) and the battery pack control module. If the module places the battery in "limp home mode," there shouldn't be requests to accept regenerative current to the battery.
However, the incompatibility of the software causes the EVCU to not recognize the limp home mode status. That sends current to the battery pack causing the electrical system to shut down.
The 500e will experience a general shut-down and lose the ability to move because the high-voltage battery provides energy to the traction motor. However, braking and steering systems shouldn't be affected because they are powered by the 12V battery.
Chrysler says the recalled 2013-2015 FIAT 500e cars were manufactured March 27, 2012, to November 1, 2014.
The FIAT 500e recall should begin May 15, 2015. Owners should watch for mailed notifications that explain dealers will update the vehicle software to ensure compatibility between components.
Owners of the 2013-2015 FIAT 500e may contact Chrysler customer service at 800-853-1403 and give them recall number R15.