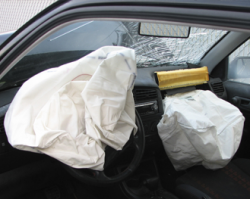 — If you know about exploding airbags made by Takata and are terrified to get into a fender-bender that could make the airbags explode, the latest word from the National Highway Traffic Safety Administration (NHTSA) won't be much comfort.
NHTSA says there are still 23.4 million defective airbag inflators installed in cars on American roads. More comforting words? About 4 million cars, trucks and SUVs have defective inflators in both driver- and passenger-side airbags, not just one inflator that has the potential to explode into shrapnel.
As bad as that 23.4 million number is, it's lower than the original number of affected inflators NHTSA previously believed existed on the highways.
The government arrived at that number after consulting with 11 automakers that have been affected by Takata airbags inflators. Those metal inflators have killed at least eight people and injured over 100 vehicle occupants, some who were in minor slow-speed accidents in parking lots.
The airbag inflators contain the explosive chemical ammonium nitrate, a substance that can be altered by heat and humidity. Both NHTSA and Takata believe the inflators can explode from a combination of heat, humidity and age that makes the ammonium nitrate too volatile.
NHTSA is also busy looking into a new trend involving Takata airbags. A recent airbag rupture got the attention of NHTSA and caused the safety agency to open an investigation into how and why a new seat-mounted side airbag exploded. Until the side airbag exploded, all other airbag failures involved frontal airbag inflators.
Based on information gathered so far, NHTSA is planning on holding an event in the fall of 2015, all to listen to what the driving public thinks about the Takata matter. In addition, the government is looking into establishing something NHTSA calls the "Coordinated Remedy Program" to track and make sure the millions of affected vehicles have safe airbags.
And finally, the agency is investigating possible violations of the Motor Vehicle Safety Act by Takata over the exploding airbag inflators. Any confirmed violations could lead to huge fines and penalties imposed by the government.