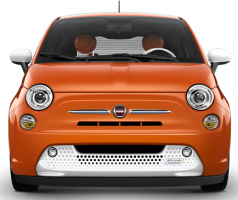 — Fiat Chrysler (FCA US) is recalling almost 4,000 of its 2013-2015 Fiat 500e cars to fix problems with the cruise control software. The automaker says it opened an investigation after reviewing warranty claims about cars that shifted into neutral while the cruise control was activated.
Owners of the Fiat 500e say the cars shift into neutral when attempting to override the cruise control system by pressing the gas pedal. In some cases, trying to override the cruise control by rapidly tapping the accelerate/decelerate buttons can cause the car to go into neutral. The problem will go away once the car is restarted.
Fiat Chrysler says engineers determined the problem is caused by software that mistakenly reads engine torque levels.
While it might make a driver nervous to realize the car is mistakenly in neutral, FCA US says it's unaware of any complaints, accidents or injuries related to the cruise control problems.
The automaker hasn't released details of when the Fiat 500e cruise control recall will begin. Fiat Chrysler dealers are receiving repair instructions today that describe how the cruise control software will be updated.
Owners of the recalled 2013-2015 Fiat 500e cars can contact FCA US at 800-853-1403.
This is the third recall of the Fiat 500e in about a year. In May 2014, the 2013-2014 Fiat 500e was recalled to replace the power inverter module. Then in April 2015, the 2013-2015 FIAT 500e was recalled after reports the cars shut down because of software problems.