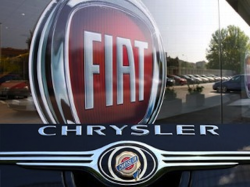 — While airbag manufacturer Takata makes headlines for causing 34 million vehicles to be recalled to replace explosive airbags, Fiat Chrysler (formerly Chrysler Group) is facing big questions in the way it's handled recalls.
The National Highway Traffic Safety Administration (NHTSA) will hold a public hearing on July 2, 2015, to determine if the automaker has failed to fix its cars in past recalls. But it's not just a few recalls NHTSA is questioning. It's 20 recalls ordered by Fiat Chrysler, and NHTSA isn't happy with the way the automaker has conducted those recalls.
Owners of affected vehicles in the 20 recalls will have an opportunity to present their opinions if Fiat Chrysler dropped the ball when repairing the cars, trucks, vans and SUVs.
Dropping the Recall Ball
The government says it has reasons to believe the automaker has been slack in its duties to customers, especially about owners being forced to wait indefinitely for replacement parts. Additionally, NHTSA has received a stream of complaints about failed service appointments and dealers providing false information.
Based on public input and other evidence, the government could order Fiat Chrysler to buy-back or replace the recalled vehicles.
The automaker released a statement that said, in part:
"FCA US will continue to cooperate with NHTSA in its efforts to identify ways in which it can more quickly identify issues, determine fixes and execute campaigns."
Fiat Chrysler owners can call NHTSA at 888-327-4236.
Following is the list of 20 Fiat Chrysler recalls sourced in government documents.
1. Loosening of the rear axle pinion nut causing loss of vehicle control​
Chrysler announced a recall of 278,229 vehicles on February 6, 2013, to correct a defect that may cause the axle to lock. As a result, the driver may lose steering power and crash. This recall involved the following vehicles:
2009 Chrysler Aspen
2009 Dodge Durango
2009-2012 Dodge Ram 1500
2009-2011 Dodge Dakota
2. Rear fuel tank structure's risk of failure
Chrysler announced a recall of 1,560,000 vehicles on June 19, 2013, for defective gas tanks that can catch fire if the vehicle is struck from behind. This recall involved the following vehicles:
1993-1998 Jeep Grand Cherokee
2002-2007 Jeep Liberty
3. Failure of the left tie rod assembly resulting in loss of steering control
Chrysler announced its recall of 36,710 vehicles on November 6, 2013, to fix a defect that may cause the driver to lose steering power and crash. This recall involved the following vehicles:
2008-2012 Dodge Ram 4500
2008-2012 Dodge Ram 5500
4. Failure of the left tie rod assembly resulting in loss of steering control
Chrysler announced its recall of 706,664 vehicles on November 6, 2013, to fix a defect that may cause the driver to lose steering power and crash. This recall involved the following vehicles:
2006-2008 Dodge Ram 1500
2003-2008 Dodge Ram 2500
2003-2008 Dodge Ram 3500
5. Failure of the left tie rod assembly resulting in loss of steering control
Chrysler announced its recall of 265,057 vehicles on November 6, 2013, to repair and replace steering linkages that may cause the driver to lose steering power and crash. This recall involved the following vehicles:
2008 Dodge Ram 1500
2008-2012 Dodge Ram 2500
2008-2012 Dodge Ram 3500
6. Inadvertent ignition switch movement turning off the engine
Chrysler announced its recall of 702,578 vehicles on June 26, 2014 because the ignition switch is defective and can get knocked out of the run position. As a result the engine can turn off and the vehicle can stall, putting the driver at risk of getting into a crash. Further, if the engine is off, the air bags will not deploy in that crash and provide life-saving protection to the driver and passengers. This recall involved the following vehicles:
2008-2010 Chrysler Town and Country
2008-2010 Dodge Grand Caravan
2009-2010 Dodge Journey
7. Vanity lamp wiring shortages resulting in fire
Chrysler announced its recall of 651,130 vehicles on July 2, 2014, to fix a defect involving the wiring for the vanity lamp in the sun visor. The wires can short-circuit and lead to a car fire. This recall involved the following vehicles:
2011-2014 Dodge Durango
2011-2014 Jeep Grand Cherokee
8. Inadvertent ignition switch movement turning off the engine
Chrysler announced its recall of 643,618 vehicles on July 21, 2014, because the ignition switch can get knocked out of the run position. The result is the engine can suddenly turn off, putting the driver at risk of getting into a crash. Further, if the engine is off, the air bags will not deploy in that crash and provide life-saving protection to the driver and passengers. This recall involved the following vehicles:
2006-2007 Jeep Commander
2005-2007 Jeep Grand Cherokee
9. Inadvertent ignition switch movement turning off the engine
Chrysler announced its recall of 291,703 vehicles on September 17, 2014, because the ignition switch can stick, causing electrical issues. This may result in the engine turning off unexpectedly, putting the driver at risk of getting into a crash. Further, if the engine is off, the air bags will not deploy in that crash and provide life-saving protection to the driver and passengers. This recall involved the following vehicles:
2008 Chrysler 300
2008 Dodge Charger
2008 Jeep Commander
2008 Jeep Grand Cherokee
2008 Dodge Magnum
10. Sudden failure of the alternator
Chrysler announced its recall of 434,600 vehicles on October 8, 2014, because of defective alternators. As a result, the vehicle may stall and increase the driver's risk of being in a crash. This recall involved the following vehicles:
2011-2014 Chrysler 300
2011-2014 Dodge Challenger
2011-2014 Dodge Charger
2011-2014 Dodge Durango
2012-2014 Jeep Grand Cherokee
11. Inoperative instrument cluster causing vehicle failure
Chrysler announced its recall of 11,668 vehicles on November 24, 2014, because they do not meet Federal Motor Vehicle Safety Standard (FMVSS) No. 101, "Controls and displays." This issue could cause the gauges to oscillate at zero and the vehicle theft alarm could remain illuminated. If the instrument panel becomes inoperative, it can increase the risk of a vehicle crash. This recall involved the following vehicles:
12. Broken springs in the clutch ignition interlock switch
Chrysler announced a recall of 54,061 vehicles on December 16, 2014, to fix a defective manual transmission that can cause the clutch to break. As a result, the vehicle can stall and put the driver at risk of getting into a crash. This recall involved the following vehicles:
2006-2007 Dodge Dakota
2006 Mitsubishi Raider
2006-2007 Dodge Ram 1500
2006-2007 Dodge Ram 2500
2006-2007 Dodge Ram 3500
13. Loosening of the rear axle pinion nut causing loss of vehicle control
Chrysler announced its recall of 256,956 vehicles on December 16, 2013, to fix a defect that can cause the rear axle to seize or driveshaft to detach. As a result, the driver can lose control of the vehicle and is at risk of getting into a crash. This recall involved the following vehicles:
14. Potential air bag inflator rupture with metal fragments causing serious injury
Chrysler announced a recall of 2,908,790 vehicles nationwide on December 24, 2014, to replace defective driver-side air bags manufactured by Takata that can rupture explosively. As a result, vehicle occupants can be severely injured by the ruptured air-bag components. This recall involved the following vehicles:
2005-2007 Chrysler 300
2005-2007 Chrysler 300C
2007 Chrysler Aspen
2005-2007 Chrysler SRT8
2005-2007 Dodge Charger
2005-2007 Dodge Dakota
2004-2007 Dodge Durango
2005-2007 Dodge Magnum
2004-2007 Dodge Ram 1500
2005-2007 Dodge Ram 2500
2006-2007 Dodge Ram 3500
2006-2007 Mitsubishi Raider
15. Unintended side-curtain airbag deployment during vehicle operation
Chrysler announced a recall of 230,240 vehicles on January 28, 2015, because defective side air bags were deploying unexpectedly. As a result, the driver may be at risk of getting into a crash. This recall involved the following vehicles:
2014-2015 Jeep Grand Cherokee
16. Inadvertent airbag deployment during vehicle operation
Chrysler announced a recall of 753,176 vehicles on January 28, 2015, to fix a defect in the electronic control module that could cause front and side air bags to inadvertently deploy and seat pretensioners to fail. As a result, the driver and any passengers are at risk of getting into a crash and the seat belts may not work. This recall involved the following vehicles:
2003-2004 Dodge Viper
2002-2004 Jeep Grand Cherokee
2002-2003 Jeep Liberty
17. Contaminated, dislodged or broken parking pawl or park rod
Chrysler announced a recall of 21,465 vehicles on February 13, 2015, to fix a defective parking lock. The driver may think the car is securely parked because the driver shifted into the park gear. But due to the defect, the vehicle could roll away, potentially harming pedestrians and crashing into anything in its path. This recall involved the following vehicles:
18. Fuel leak near an ignition source
Chrysler announced its recall of 1,873 vehicles on February 28, 2015, to replace a defective fuel hose that may result in a leak and cause the car to catch fire. This recall involved the following vehicles:
2015 Dodge Challenger
2015 Dodge Charger
19. Fuel pump relay causing a vehicle to stall without warning
Chrysler announced a recall of 338,216 vehicles on February 27, 2015, to fix defective Totally Integrated Power Modules (TIPM). The failure of this system could cause the engine to stall, putting the driver at risk of getting into a crash. This recall involved the following vehicles:
2012-2013 Dodge Durango
2012-2013 Jeep Grand Cherokee
20. Driver and passenger side door latch failure
Chrysler announced a recall of 1,451 vehicles on March 27, 2015, because the doors can inadvertently open while the vehicle is in motion. As a result, the driver is at risk of getting into a crash. In addition, both the driver and any passengers are at risk of falling out of the vehicle if they are not wearing their seat belts. This recall involved the following vehicles: