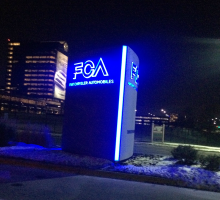 — Fiat Chrysler (FCA US) has been hit with another huge penalty caused by failures to keep the government informed about potential safety problems.
The National Highway Traffic Safety Administration (NHTSA) says Chrysler will pay another $70 million in addition to $105 million the automaker had already been fined in July 2015. The $70 million agreement comes after Chrysler failed to properly submit important early warning reports to NHTSA. The government says FCA didn't follow protocol for over 10 years in reporting deaths and injuries.
The Transportation Recall Enhancement, Accountability and Documentation Act requires all manufacturers of 5,000 or more light vehicles to submit quarterly "early warning reports" to help the government track potential safety defects. Part of those reports should include any injuries and deaths associated with Fiat Chrysler vehicles, but the automaker failed to properly do that for over 10 years.
FCA blamed the 10 years of problems on a software system that didn't recognize incidents that should have been reported. Chrysler says it will fix its problems and abide by the federal agreement.
Federal regulators said Fiat Chrysler must submit missing data to NHTSA within six months, but currently Chrysler hasn't said how many deaths and injuries weren't reported.
Although what Chrysler did was inexcusable, the automaker isn't the first in the past few years to get busted for problems with reporting deaths and injuries.
In November 2014, Ferrari was fined $3.5 million after admitting it didn't submit quarterly reports for over three years and failed to inform the government about three deaths.
Then there is Honda that in January 2015, was hit with one $35 million penalty for failing to report 1,729 death and injury claims for a period of 11 years. A second penalty of $35 million was laid on the automaker due to Honda's 11-year failure to report warranty claims and claims under customer satisfaction campaigns.