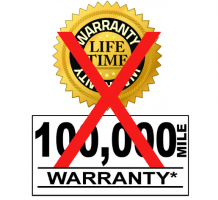 — Fiat Chrysler is downgrading its powertrain warranty on gas-powered Chrysler, Jeep, Dodge and Ram vehicles beginning with the 2016 models. Fiat Chrysler says the warranty period will drop from from 100,000 miles to 60,000 miles, following a similar move by General Motors a few months ago.
Fiat Chrysler previously offered a lifetime guarantee on the powertrains until the automaker lowered it to a five-year, 100,000-mile warranty that started with 2010 models.
In 2010, Chrysler lowered the lifetime powertrain warranty after the absurd notion that customers preferred limited warranties compared to lifetime warranties. That's the same argument GM used a few months ago when trying to answer why it lowered the warranty period.
Fiat Chrysler also says the price of its vehicles will likely increase because the National Highway Traffic Safety Administration increased its bite as the government watchdog of the auto industry.
Chrysler used to say it was so confident in the quality of its vehicles, the vehicles included a lifetime powertrain limited warranty. Then the marketing phrase was changed to "We're so confident in the quality of our vehicles that we're backing them with a 5-Year/100,000-Mile Powertrain Limited Warranty."
All that will now change, again.
For new auto buyers who still believe a 100,000-mile warranty is better than a warranty of 60,000 miles, Hyundai, Kia and Mitsubishi still sell new cars with a 10-year/100,000 mile powertrain warranty.