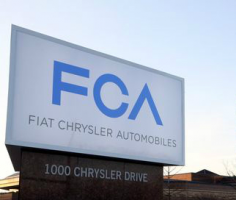 — Fiat Chrysler Automobiles (formerly Chrysler Group) will have to pay $70 million in cash to the National Highway Traffic Safety Administration (NHTSA) for failures the automaker made in 23 recalls.
Chrysler also agreed to spend $20 million on industry and consumer outreach activities and incentives to enhance recall completion rates, and to begin a buyback program for nearly 200,000 trucks and SUVs. Additionally, another $15 million will be set aside in an account that will be tapped if the automaker fails to abide by the terms of the consent order.
The government held a public hearing in July to learn the facts about reported problems in 20 recalls ordered by Chrysler. That number was increased to 23 recalls by the time the hearing was held.
NHTSA says the automaker admitted it violated the National Traffic and Motor Vehicle Safety Act of 1966 in three ways: recall notifications to owners and dealers, recall notifications to NHTSA and effective and timely recall repairs.
"FCA US LLC acknowledges the admissions in its Consent Order with the National Highway Traffic Safety Administration. We also accept the resulting consequences with renewed resolve to improve our handling of recalls and re-establish the trust our customers place in us." - Fiat Chrysler Automobiles
As part of the consent order, almost 200,000 owners of trucks and SUVs with faulty suspension parts will be able to sell their vehicles back to Chrysler. The original three recalls involved over 500,000 vehicles, but the automaker says less than 200,000 still need to be repaired under the original recalls. Only vehicles not yet repaired are eligible for the buyback program.
Owners can choose to have their vehicles repaired as planned, or Fiat Chrysler will repurchase those vehicles at a price equal to the original purchase price, less reasonable depreciation, plus ten percent.
Trucks and SUVs included in the buyback program and the recalls associated with the vehicles are as follows:
Recall Date: February 2013 / Approximate Number of Vehicles: 278,000
Cause of Recall: Rear axle pinion nut can loosen and cause the axle to lock.
2009 Chrysler Aspen
2009-2011 Dodge Dakota
2009 Dodge Durango
2009-2012 Dodge Ram 1500
Two Recalls - Date: November 2013 / Approximate Number of Vehicles: 300,000
Cause of Recalls: Tie-rod assembly and steering linkage problems.
2008-2012 Dodge Ram 4500
2008-2012 Dodge Ram 5500
2008 Dodge Ram 1500
2008-2012 Dodge Ram 2500
2008-2012 Dodge Ram 3500
Further, owners of more than a million Jeeps at risk of fires will have the chance to trade-in their SUVs above market value or receive a financial incentive to get their Jeeps fixed.
The automaker also agreed to be watched for the next three years by an independent monitor who will keep track of recalls. NHTSA also reserves the right to extend the monitoring for another year if Fiat Chrysler fails in its obligations.
"Fiat Chrysler's pattern of poor performance put millions of its customers, and the driving public, at risk. This action will provide relief to owners of defective vehicles, will help improve recall performance throughout the auto industry, and gives Fiat Chrysler the opportunity to embrace a proactive safety culture." - NHTSA Administrator, Mark Rosekind
Although the penalties are punishment, it's nothing compared to what Chrysler could have faced from NHTSA. The government could have fined the automaker up to $35 million for each of the 23 recalls, a total of $805 million. However, Fiat Chrysler could spend billions to buy back just a portion of the 200,000 trucks and SUVs.
That's a lot of money to potentially throw out, but much of it could be made back because the federal consent order allows Chrysler to repair and sell any vehicles repurchased from owners.