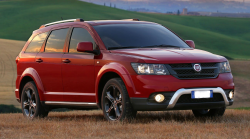 — Fiat Chrysler is recalling almost 350,000 small SUVs to repair problems with loose engine covers that can dislodge and possibly cause a fire.
Chrysler says the 2011-2015 Dodge Journey and Fiat Freemont are involved, with about 144,416 located in the U.S., 43,679 in Canada, 46,231 in Mexico and 115,405 outside those areas. The recall affects only SUVs equipped with 2.4-liter 4-cylinder engines, not vehicles with 6-cylinder engines.
Fiat Chrysler discovered the problem during an investigation into three incidents that occurred in Chile. Chrysler says the SUVs had been driven on uneven or unpaved roads and one minor injury has been attributed to the defective engine covers.
The risk of fire comes from an engine cover coming loose and touching hot parts of the exhaust system.
A customer would have an idea of a loose engine cover if a warning light illuminates on the instrument panel or a burning odor is noticeable. Another indicator would be noise coming from the engine compartment. If any of these events occur, an owner should immediately contact their dealer.
Chrysler says owner recall notices will be mailed in August 2015. Dealers will install new engine cover retainers in the Freemont and Journey SUVs.
Owners of the recalled 2011-2015 Dodge Journey and Fiat Freemont SUVs can contact Fiat Chrysler at 800-853-1403.