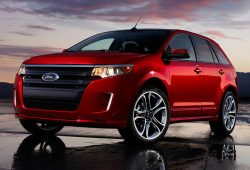 — The National Highway Traffic Safety Administration (NHTSA) has opened an investigation into possible problems with the 22-inch allow wheel rims on about 20,000 model year 2014 Ford Edge crossover SUVs. It took only one complaint to the safety agency, filed in November 2014, to get the attention of NHTSA.
The information is limited, although the Ford Edge owner who complained described a scary scene.
The owner was driving in Maryland when they thought the car dropped down onto the road. The driver heard a scraping sound before the SUV went off the road and into a field. The tire was off the 22-inch alloy wheel and the wheel was on the grass of the field.
The complainant said the core of the alloy wheel had totally sheared off from the exterior of the wheel. The driver said no damage to the tire was observed and there was no warning before the incident. The Edge owner said it looked as if someone had used a saw and separated the wheel, although a Ford dealer said a simple dent in the wheel caused the separation.
At the time of the wheel failure, the Ford Edge had clocked about 8,500 miles.
NHTSA is calling this a "preliminary evaluation" to determine if the 22-inch alloy wheels are defective and if 20,000 model year 2014 Ford Edge crossover SUVs should be recalled.
CarComplaints.com will update our website when the results of the investigation are available.