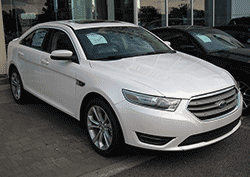 — Ford is recalling about 443,000 cars for two separate problems, one of those problems the cause of four accidents.
Ford Flex, Fusion and Taurus / Lincoln MKS, MKT and MKZ / Mercury Milan
Almost 423,000 of the cars are called back to repair problems that cause a sudden loss of power steering. Four accidents have been linked to the defect, although Ford says it's unaware of any injuries.
The recalled cars are the 2011-2013 Ford Taurus and Flex, 2011-2012 Ford Fusion, 2011-2013 Lincoln MKS and MKT, 2011-2012 Lincoln MKZ and the 2011 Mercury Milan.
The automaker says the defect stems from an electrical connection in the steering gear that can leave a driver with nothing but manual steering. A quick switch from power-assisted steering to manual steering might not be too bad if it occurs while driving straight on a highway, but losing power steering while taking a curve can be a nightmare. The same applies if the power steering is lost while driving at slow speeds.
The recalled cars were manufactured during these specific time periods.
2011-2013 Ford Flex and Lincoln MKT: Built September 7, 2010, to February 28, 2012.
2011-2012 Ford Fusion and Lincoln MKZ: Built September 7, 2010, to February 28, 2012.
2011 Mercury Milan: Built September 7, 2010, to December 10, 2010.
2011-2013 Ford Taurus and Lincoln MKS: Built September 7, 2010, to February 28, 2012.
Ford said its dealers will perform one of two tasks. Based on what diagnostic trouble codes appear for your car, you could have the software updated for the power steering control module, or dealers will replace the steering gear. Owners who don't have the steering gear replaced can only hope it doesn't go out later.
Ford Mustang
If you drive one of 19,500 model year 2015 Ford Mustangs with 2.3 liter engines, you might want to keep a close eye on what is happening under the car. Ford says elevated underbody temperatures can cause all kinds of trouble, including the possibility of the Mustang going up in flames.
The high temps can cause damage to the gas tank, gas vapor lines and the seals for the parking brake cable. The damaged seals can cause the parking brake to fail, and the damage to the fuel system can cause gas to leak.
According to Ford, there have been no reports of accidents, injuries or fires related to the problem.
The recalled 2015 Ford Mustangs were manufactured February 14, 2014, to February 10, 2015.
Ford says the gas tank shield will be replaced with a shield with better insulation, thermal patches will be installed on the gas tank and parking brake cable, and dealers will install thermal wraps on the fuel vapor lines.
The National Highway Traffic Safety Administration hasn't released a schedule of when the Ford recalls will begin.
Affected owners can contact the automaker at 866-436-7332.