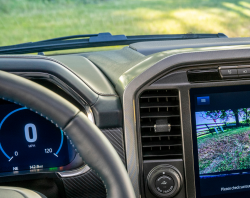 — A Ford F-150 windshield wiper recall affects nearly 274,000 model year 2021 F-150 trucks because the windshield wiper arms may break and detach.
The Ford F-150 recall is an expansion of an April 2022 windshield wiper recall of about 650,000 Ford trucks and SUVs.
According to Ford:
"Worn wiper arm spline tooling core inserts at the supplier resulted in insufficient spline tooth height, which can cause the arm attachment to strip. Potential symptoms include erratic or slow wipe speed of the driver or passenger wiper arm."
The Ford recall in 2022 involved multiple models equipped with high-torque windshield wiper motors, but 2021 F-150 trucks equipped with smart wiper motors were not included.
Ford says the smart wiper motor "electronically limits torque and has an overall lower maximum torque. The F-150 smart wiper motor also has an obstruction detection feature that learns and adapts the wipe pattern to reduce the torque applied to the wiper arms."
As of January 25, 2023, Ford was aware of 576 global reports of inoperative or detached windshield wiper arms received from February 25, 2021, through January 25, 2023.
Ford says there have been no crash or injury reports related to failed windshield wipers.
The U.S. Ford F-150 windshield wiper recall involves about 222,500 trucks, and a recall in Canada includes more than 51,000 vehicles.
Ford also previously issued a 2021-2022 Ford F-150 windshield wiper recall which was an expansion of a March 2022 wiper motor recall of more than 157,000 F-150 trucks.
However, those recalls involved F-150 windshield wiper motors that failed.
Ford F-150 windshield wiper recall letters will be mailed toward the end of March 2023. Ford dealers will check the windshield wipers and replace them if needed.
Ford F-150 owners may call the automaker at 866-436-7332 and reference windshield wiper recall number 23S10.