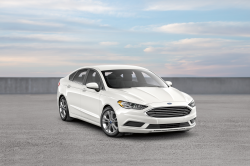 — A Ford brake hose recall involves more than 1.4 million Ford Fusion and Lincoln MKZ vehicles because the front brake hoses may break and leak fluid.
The recalled 2013-2018 Fusion and Lincoln MKZ vehicles will suffer from increased stopping distances and increased brake pedal travel if brake fluid leaks.
The Ford brake hose recall follows a brake hose recall in 2020 that involved 2015-2018 Ford Edge and 2016-2018 Lincoln MKX vehicles.
The government opened an investigation in 2022 because owners continued to complain about brake hose failures. However, those complaints concerned vehicles that were not included in the 2020 recall.
A rupture in the front brake jounce hose can occur from a "consistent localized failure of the internal reinforcement braid due to cyclic fatigue via tensile/bending and torsional inputs during suspension and steering articulations."
Ford says the replacement brake hoses have improved braids. As of February 2023, no reports have been received on vehicles built with the new brake hose material.
A Ford driver will notice changes to the brake pedal and the brake fluid warning indicator light will illuminate.
However, Ford's testing confirmed a driver who experiences a leaking front brake hose will receive overt warnings (a longer brake pedal travel and a red brake warning light) before experiencing reduced brake performance.
According to Ford, engineers discovered the brake hoses went through life testing but at only 88%.
Ford dealers will eventually replace the front brake hoses when dealers have new replacement hoses. For now, Ford will mail interim brake hose recall letters April 17, 2023. Second Ford brake hose recall letters will be mailed once parts are available.
Ford owners may contact Ford at 866-436-7332 and ask about brake hose recall number 23S12.