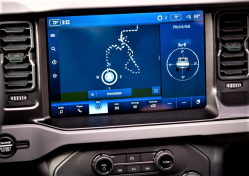 — About 2,000 Ford Broncos are recalled in two recalls for two different problems.
In a recall of more than 1,600 vehicles, Ford has recalled 2021-2022 Bronco vehicles equipped with 8-inch SYNC infotainment screens that were previously recalled in November 2021.
Ford says the rearview camera image may still be displayed after a driver has shifted out of REVERSE.
According to Ford, the SYNC software was not properly configured for when the driver operates the vehicle in 4-Low mode.
Following the November 2022 recall, Ford learned some dealers had trouble updating the SYNC 8-inch infotainment screen software.
Ford found dealers had closed out recall repairs for 1,651 Broncos equipped with SYNC 8-inch infotainment screens. However, Ford is not aware of any reports of crashes or injuries related to the problem.
Ford dealers will update the SYNC module software, either at a dealership or over-the-air once recall letters are mailed May 1, 2023.
Ford Bronco owners may contact Ford at 866-436-7332. Ford's Bronco recall number is 23C05.
Ford Bronco Wildtrak and Bronco Raptor Recall
Ford has recalled 2023 Bronco Wildtraks and 2022 Bronco Raptors and is warning owners not to drive the vehicles because the steering wheels may lock-up.
Ford says about 350 Broncos are recalled because internal damage to the steering gears may cause drivers to use increased effort to steer the Broncos.
But a driver will have no control if the steering wheel completely locks.
Ford mailed Bronco Wildtrak and Bronco Raptor recall letters March 27, 2023. Ford dealers need to replace the steering gears.
Ford Bronco owners who have concerns should call Ford at 866-436-7332 and ask about recall number 23S09.