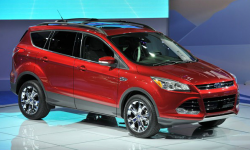 — Ford has issued two recalls to call back almost 10,000 vehicles for problems that caused the automaker to order recalls in the past.
Ford Escape, Focus ST
Ford is recalling over 9,000 vehicles to fix engine problems that should have been fixed in 2014. The recalled cars include the 2013 Ford Escape and 2013-2014 Focus ST, the same models that were recalled in August 2014.
Ford says the manifold absolute pressure (MAP) sensor could send wrong signals to the powertrain control module due to problems with a wiring harness.
Ford says splices in the engine wiring harness might have problems with how they were crimped. The problem can cause a high resistance to occur in the engine sensor circuits and cause all kinds of issues with the vehicle.
The automaker says a driver might notice reduced engine power and the engine running roughly. Additional problems include warning lights illuminating and the engine stalling without warning.
The 2013 Escapes were manufactured January 11, 2012, to April 1, 2013, and the 2013-2014 Focus ST cars were built May 3, 2012, to October 14, 2013.
The recall should begin January 4, 2016. Ford dealers will replace the crimped splices with new splices.
Owners of the Escape and Focus ST cars can contact Ford customer service at 866-436-7332 and give them recall number 14S17-S1.
Ford Explorer, Explorer Police Utility, Taurus, Taurus Police Interceptor, Flex, Lincoln MKS and Lincoln MKT
Ford is recalling 868 vehicles more than two years after vehicles were recalled for the same problem. The affected vehicles include the 2013 Explorer, Explorer Police Utility, Taurus, Taurus Police Interceptor, Flex, Lincoln MKS, and Lincoln MKT.
In August 2015, Ford discovered reports of gas leaks on multiple models of vehicles, something that caused engineers to review the data. Ford dealerships were included to help identify complaints about fuel leaks on vehicles brought in for repairs.
The investigation determined problems with the fuel delivery module that can crack inside the fuel tank. Ford blames the problem on errors made in the visual sorting process at the assembly plants. The crack can cause gas to leak and possibly cause a fire.
Ford has begun notifying owners about dealers replacing the fuel delivery modules.
Owners with questions should call the automaker at 866-436-7332 and use recall number 13S04-S1.
CarComplaints.com has complaints you can read below about the Ford vehicles named in the recalls: