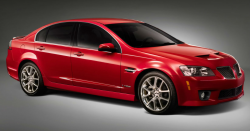 — General Motors is recalling about 98,000 cars in two separate recalls, the largest recall due to problems with the radios.
Chevrolet Spark / Chevrolet Sonic
About 51,000 model year 2015 Chevrolet Sonics and 2014-2015 Chevrolet Sparks are recalled because of software problems connected to the radio and OnStar system.
The automaker says software for the radio can freeze in navigation mode for the OnStar system and cause warning chimes to fail. Those chimes include warnings for seat belts and keys left in the ignition switches of the cars.
Additionally, the screen for the radio can go blank and cause the loss of audio signals, yet the radio can be left in the "on" mode and possibly drain the battery.
GM dealers will update the radio software, but the automaker hasn't said when the recall will begin.
Owners of the Chevy Sonic and Chevy Spark can contact GM at 800-222-1020.
Chevrolet Caprice / Pontiac G8
Another 47,000 GM cars are recalled because of problems with the seat belts. The same problem caused GM to recall 470,000 model year 2011-2012 Chevy Malibu cars in May 2015.
The automaker says the cars have steel cables that can be bent where they connect the seat belts to the car at the outside of the driver seat and the front passenger seat. GM says the cables can be bent by people when entering the cars. All that bending can cause the cables to eventually break.
The seat belts might fail to hold the occupants during a crash or any sudden stops.
The recalled Chevy Caprice cars were manufactured October 15, 2010, to October 22, 2013, and the Pontiac G8 cars were built July 25, 2007, to February 18, 2009.
General Motors doesn't know when the recall will begin, but its dealers will replace the seat belt tensioner assembly with new steel cables. The replacement assembly will reposition the cable out of the way so entering the vehicle won't rub the cables.
Owners of the Chevrolet Caprice and Pontiac G8 can call Chevy at 800-222-1020 or Pontiac at 800-762-2737. GM's number for this recall is 15206.
Have a complaint about your GM vehicle? Let the world know by adding your complaint.
Read complaints about the Chevy and Pontiac cars named in the two recalls: