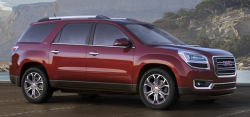 — After ordering its dealers to stop selling the 2015 Buick Enclave, Chevy Traverse and GMC Acadia, General Motors has ordered a recall of those cars to replace cracked Goodyear tires. GM didn't say how many vehicles are recalled, but the National Highway Traffic Safety Administration says the total number of tires is 48,512.
Goodyear found the problem on January 8, 2015, during routine endurance testing of the Fortera HL P255/65R18 109S tires. Inspectors saw cracking on the tread area and a later test on a different tire confirmed the treads were cracked. Goodyear tracked down the defective tires to those manufactured November 30, 2014, to January 10, 2015.
Cracked tire treads could cause everything from a loss of tire pressure to complete tire failure.
GM said the defective Goodyear tires will be replaced on the 2015 Buick Enclave, Chevrolet Traverse, and GMC Acadia. Owners should watch for mailed notification from GM, although Goodyear and GM are working out the details of when the recall will begin.
Affected owners can contact Buick at 800-521-7300, Chevy at 800-222-1020 and GMC at 800-462-8782. GM's number for this recall is 15025/15067.
Read complaints about the Buick Enclave, Chevy Traverse and GMC Acadia.