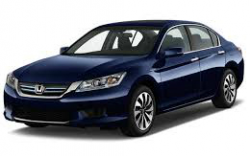 — Honda says about 6,786 Honda Accord Hybrid cars have software problems associated with the hybrid battery cell voltage sensor.
The 2014-2015 Accord Hybrids may not have enough electrical noise strength in the voltage sensors which can cause the sensors to incorrectly interpret noise from the hybrid battery inverter and motor circuits.
The problem can cause the car to switch to fail-safe electric vehicle mode. In that mode the car uses the electric motor for power, including power to the brakes and steering.
If driving at highway speeds when the fail-safe mode activates, the car's internal combustion engine will shut off and start sounding alarms. A driver will experience a sudden loss of power with a top speed of 40 mph.
In addition, fail-safe electric mode means the Accord will travel up to two miles before the hybrid battery discharges and the car stalls.
The recalled 2014-2015 Honda Accord Hybrid cars were manufactured August 29, 2013, to May 30, 2015. The automaker says the defect was discovered through warranty claims, and Honda says it's unaware of any accidents or injuries.
Honda says the recall should begin November 6, 2015. Honda dealers will update the hybrid system software related to the hybrid battery cell voltage sensor.
If you own one of the Honda Accord Hybrid cars, feel free to call 888-234-2138 and make reference to recall number JT7.
Honda Odyssey Minivan
In a separate recall, Honda is recalling 37 model year 2003 Odyssey minivans to repair airbag problems. The minivans have airbags that don't meet safety requirements due to airbag module issues.
The 2003 Honda Odyssey minivans were built August 28, 2002, to August 30, 2002.
The Odyssey recall should begin October 6, 2015, with Honda dealers replacing the passenger frontal airbag modules in all 37 minivans.
Affected Odyssey owners can contact Honda customer service at 888-234-2138 and give them recall number JU0.