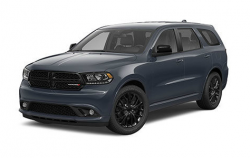 — Fiat Chrysler (FCA US) is recalling over 7,700 model year 2015 Jeep Grand Cherokee and Dodge Durango SUVs to repair possible problems with components of the suspension, specifically rear lower control arms that can fracture.
Chrysler says sixty-five owners of the recalled SUVs have been warned to stop driving their SUVs until they are repaired.
FCA says the Grand Cherokees and Durangos might have suspension components that didn't have the proper heat treatment applied. The problem can cause lower control arms to break, rear-end stability problems or reduced brake performance.
However, the automaker said it is unaware of any injuries, accidents or complaints about the suspension components.
Fiat Chrysler says the supplier discovered a problem which caused the automaker to open its own investigation. Shipments from the assembly plant were stopped, but production continued once the problems were fixed.
Although the stop-driving warning was issued for only 65 SUVs, another 7,690 Durango and Grand Cherokee SUVs are also under recall because the vehicles were manufactured during the same eight-day period. The automaker believes no more than 13 percent of the total recalled SUVs have the faulty lower control arms.
Chrysler says the affected 2015 Jeep Grand Cherokees and Dodge Durangos were built from June 12, 2015, to June 20, 2015. About 5,608 are in the U.S., 255 are in Canada and 65 are in Mexico. The remaining SUVs have not been shipped and await inspection before they'll be sent to destinations outside North America.
The recall is expected to begin August 10, 2015. Dealers will replace any affected rear lower control arms.
Owners of the affected Jeep Grand Cherokee and Dodge Durango SUVs can call Fiat Chrysler at 800-853-1403.