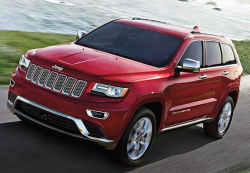 — An estimated 50,000 model year 2015 Jeep Grand Cherokees are under the microscope of the National Highway Traffic Safety Administration (NHTSA) after a fire burned a Jeep Grand Cherokee to a crisp.
NHTSA opened the investigation after receiving a report about a 2015 Jeep Grand Cherokee catching fire and sending flames 20 feet into the sky. The owner said they parked the SUV, turned off the ignition and quickly noticed white smoke pouring from the engine compartment. The owner said it took only seconds for the entire Jeep to be engulfed in flames, causing a total loss of the new Grand Cherokee.
According to NHTSA, information contained in early warning reports supplied by Jeep indicate a problem, although the government hasn't said what the alleged defect might be.
The federal investigation will try to determine if a defect caused the 2015 Jeep Grand Cherokee fire and if 50,000 of those SUVs need to be recalled.
In any event, more publicity where the word "Jeep" is used with the word "fire" is never a good thing for the automaker. The history of Jeep Grand Cherokee fire lawsuits, investigations and recalls is enough to make any Grand Cherokee owner a little nervous.