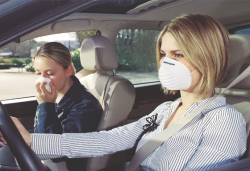 — A proposed class-action lawsuit has been filed alleging the 2012 Toyota Camry air conditioning/heating system fills the car with a moldy smell so obnoxious it could awaken a corpse.
Plaintiff Alan Forsley says the 2012 Camry grows mold on the evaporator inside the Camry's dashboard. The lawsuit alleges pollen, moisture, insects and pieces of leaves enter the HVAC system from the outside vents and can cause mold to grow.
Forsley isn't the only 2012 Toyota Camry owner who says the problem is real, and nose-numbing.
"At around 10,000 miles we started getting a foul smell out of AC and thought we were just crazy because the interior still smells of new car until we start it. I have only put 1000 miles on my car in the last 10 months due to the horrid smell and discomfort!" - 2012 Toyota Camry owner / Santa Clara, California
"My car had this horrible smell for a few weeks but I had just thought a cat had gotten under it and sprayed. Toyota ended up discovering that the A/C system was not draining right and admitted it was a design flaw. The car was holding in all the moisture from the A/C and was full of mold and mildew (there's your smell!)" - 2012 Toyota Camry owner / Webb City, Missouri
The Camry lawsuit says any attempts by dealers to repair the problem only extends the problem because the same defective replacement parts are installed.
The suit also says Toyota has known about the air conditioning smell for years because the automaker warned its technicians about it in 2005. Toyota technicians were allegedly told odors coming from the HVAC system was a common consumer complaint but there was no way to permanently fix the problem.
The 2012 Toyota Camry HVAC moldy smell lawsuit was filed in the Superior Court of the State of California, County of Los Angeles - Alan Forsley et al vs. Toyota Motors Sales USA Inc. et al.
The plaintiff is represented by Capstone Law APC.