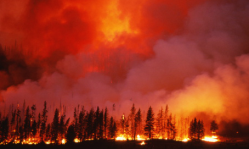 — A large insurance company has filed suit against Fiat Chrysler (Chrysler Group) claiming a 2009 Jeep Wrangler caused a massive California wildfire in 2013.
USAA alleges the defective 2009 Jeep Wrangler burned over 7,000 acres, 122 homes, 29 other structures and 66 vehicles. The San Diego fire, referred to as the Chariot Fire, was allegedly started when the driver of the Jeep Wrangler drove through dry, tall brush. The driver, Jason Peters, worked for the U.S. Bureau of Land Management and the Jeep was owned and licensed by the government.
Skid Plate Brush Fire
The complaint claims the Jeep fire first started under the cab below the transmission and ignited the dry brush that was stuck on the top side of the skid plate and cross member. The Jeep Wrangler has two catalytic converters that are mounted to exhaust pipes about four inches above both sides of the skid plate and cross member.
The complaint says the fire started when the brush was ignited by the catalytic converters, exhaust system, engine block and other parts of the Jeep. The fire burned the plastic incoming gas line to the engine compartment and caused gas to leak from the line, further igniting the blaze.
With the Jeep on fire, Mr. Peters allegedly kept driving across the dry brush, thereby spreading the wildfire.
Placing the Blame on a Defective Design
The Jeep Wrangler lawsuit says the Wrangler has a defective design that can allow debris to easily get caught in the skid plates and undercarriage of the SUV.
Because the Jeep Wrangler is advertised for off-road use, the lawsuit says the 2009 model should have been recalled when Chrysler recalled the 2010 Jeep Wrangler. The 2010 Wrangler was earlier recalled for a defect that allowed debris to get caught and collect on the skid plates, the same problem that allegedly started the Chariot Fire.
"The transmission skid plate on your vehicle may allow debris to collect in the undercarriage of the vehicle under certain driving conditions. If an excessive amount of debris collects in the undercarriage, the catalytic converter could ignite the debris, causing an underbody fire without warning." - Recall letter sent to owners of the 2010 Jeep Wrangler
Do Chrysler's Design Changes Prove They Knew About the Problem?
To repair the 2010 Jeep Wrangler, Chrysler installed a skid "bar" to replace the skid plate, which kept the skid plate from collecting debris that could be ignited by the catalytic converter or exhaust system.
The lawsuit says Chrysler "knowingly, negligently, willfully, intentionally, and recklessly failed to recall other Jeep Wrangler model years including the 2009, failing to provide the same skid bar replacement instructions."
The Jeep Wrangler wildfire lawsuit was filed in the U.S. District Court Southern District of California - United Services Automobile Association vs. FCA US, Chrysler Group, LLC.