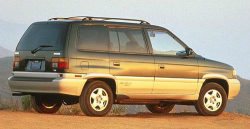 — Days after Mazda recalled nearly 1 million cars in Japan to replace ignition switches that catch on fire, the automaker has announced almost 1.4 million Mazda vehicles are recalled in the U.S. for the same problem. Worldwide the recall affects about 4.9 million Mazda vehicles.
Mazda says the 1.4 million recalled U.S. vehicles include the:
1990-1996 Mazda 323 / Protégé
1989-1998 Mazda MPV
1993-1998 Mazda 626
1993-1995 Mazda 929
1993-1997 Mazda MX-6
1992-1993 Mazda MX-3
Mazda says too much grease was used at the contact points inside the ignition switch and over time the grease can carbonize. Once carbonized, the grease can build up between the contact points and reduce electrical insulation inside the ignition switch.
The automaker says the contact points of the thermal base of the switch can become conductive and cause the switch to overheat, smoke, melt and possibly catch fire.
According to Mazda, failure of the electrical thermal base of the ignition switch won't affect drivability or safety features of the vehicle, unless of course the switch catches on fire. However, no reports of accidents or injuries have been made concerning the ignition switches.
Mazda said the recall will begin December 15, 2015, when dealers will begin replacing the ignition switches.
Owners may contact Mazda at 800-222-5500 and refer to recall number 8715J.
Read complaints about the Mazda vehicles named in the ignition switch recall: