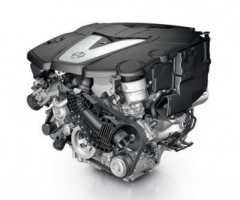 — Without admitting wrongdoing, Mercedes-Benz has agreed to settle a lawsuit concerning M272 and M273 engines with defective idle gears and balance shafts.
The plaintiffs allege Mercedes-Benz M272 and M273 engines stop suddenly while driving and the only way to fix the engines is to replace the idle gears or balance shafts. Which part gets replaced is based on which engine is involved. The V-8 M273 engine needs the idle gear replaced, the V-6 M272 engine needs the balance gear replaced.
The lawsuit alleges the automaker has known about the engine problems because Mercedes issued technical service bulletins to its dealers about how to repair the problems. The bulletins aren't official recall notices and are used only to inform dealers of what to do if a customer complains.
The settlement includes all current and former U.S. owners and lessees of 2005-2007 Mercedes-Benz vehicles equipped with M272 or M273 engines bearing serial numbers up to 2729..30 468993 or 2739..30 088611.
By agreeing to the settlement terms, Mercedes has agreed to reimburse owners who have paid to have the engines repaired. If repairs weren't made by a Mercedes-Benz dealer, the automaker will cover the cost up to $4,000. Mercedes will cover future repairs, either fully or partially, based on what problem the engine is experiencing.
The automaker also agreed to extend the warranty to 10 years or 125,000 miles, up from the previous warranty period of 4 years or 50,000 miles.
Although preliminarily approved by the court, the fairness hearing won't be held until August 17, 2015.
The Mercedes-Benz M272 and M273 engine lawsuit was filed in the U.S. District Court for the Northern District of California - Seifi et al. v. Mercedes Benz USA, LLC.
The plaintiffs are represented by Kantrowitz, Goldhamer & Graifman.