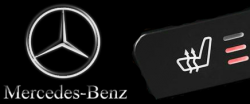 — A lawsuit filed in a California court alleges Mercedes-Benz seat heater fires can occur because of a defect in the system. The proposed class-action lawsuit says Mercedes-Benz has concealed the dangers of the seat heaters in cars manufactured between 2000 and 2014.
Plaintiffs William and Elizabeth Callaway say they would not have purchased their 2006 Mercedes-Benz R350 if the automaker would have been honest about the dangers of the seat heaters.
The lawsuit alleges Elizabeth Callaway first noticed a smell of smoke inside the R350 shortly after turning on the driver-side seat heater. A day later the car filled with smoke and the seat heater allegedly caused a hole to burn through Callaway's dress in addition to causing a deep burn in the seat padding material.
The plaintiffs allege a Mercedes-Benz dealership agreed to repair the seat heater and the seat, plus the dealer would give the couple $500. The plaintiffs allege they turned down the offer because it would have meant signing a legal agreement to not pursue any legal action against Mercedes. The Callaway's would have also had to agree to keep their mouths shut about the entire incident.
The plaintiffs shouldn't feel alone about complaining about Mercedes-Benz seat heater fires because they aren't the only owners who have issues with the seat heaters.
"I was about to pull off the parking lot when I noticed thick white smoking coming from my seat. I immediately turned off the seat warmer. The smoke dissipated afterwards.I continued to drive the car about 1/2mile to the grocery store. I got out and noticed a burn on seat." - 2007 Mercedes-Benz E350 owner / Little Rock, Arkansas
"The contact owns a 2007 Mercedes Benz E350. The contact stated while driving 25 mph burning fumes were emitted into the vehicle. Once he stopped the vehicle, he realized that the drivers seat heater malfunctioned and burned a hole through the seat." - 2007 Mercedes-Benz E350 owner / Los Angeles, California
"My husband was driving when he smelled something burning and then felt something burning, he pulled over and jumped out to check and found the seat warmer had malfunctioned and burned through the seat, his shirt and had slightly burned him." - 2007 Mercedes-Benz E350 owner / Yucaipa, California
The lawsuit demands Mercedes-Benz pay restitution, compensatory and punitive damages and repair the seat heaters so they don't overheat can catch fire.
The Mercedes-Benz seat heater lawsuit was filed in the United States District Court for the Central District of California - Elizabeth Callaway et al v. Mercedes-Benz USA, LLC et al.
The plaintiffs are represented by McNicholas & McNicholas, Yuhl Carr, and Eagan Avenatti.