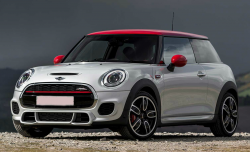 — BMW has more Takata airbag problems, but this time it's not because the airbags will explode in your face. Over 6,000 BMW and MINI cars are recalled because the passenger-side airbags can fail to protect passengers.
The recalled cars include the 2014-2016 MINI Cooper S and MINI Cooper two-door vehicles, 2015-2016 MINI John Cooper Works and MINI Cooper S and MINI Cooper four-door cars and the 2014-2015 BMW i3.
Airbags deploy in different stages based on the severity of the crash. The automaker says in a low-speed crash where the passenger-side airbag deploys with the first stage only, a passenger won't be properly protected.
BMW was contacted by Takata in July about a possible problem with the front passenger airbag systems in the affected cars. Takata said two tests indicated the airbags weren't deploying correctly which caused BMW to begin an internal investigation. The automaker said the disposal ignition of the second stage can have unspecified time delays caused by a manufacturing error.
BMW says the airbag modules and inflators weren't produced to specification due to supplier and sub-supplier problems, so the automaker decided on September 25 to call back the cars for repairs. The decision to recall the cars was probably an easy decision to make considering BMW is facing government scrutiny over past MINI recalls.
The automaker says no accidents or injuries have been caused by the defective Takata airbags.
The recall should begin November 20, 2015, when dealers will replace the front passenger-side airbag modules. BMW says the recall repair will take about three hours, if not longer.
Owners who have questions should call MINI customer service at 866-825-1525 or BMW customer service at 800-525-7417.
Read what owners say about the cars named in the BMW and MINI recall: