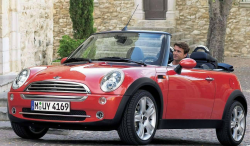 — BMW is recalling 86,000 MINI Cooper cars after a 4-year discussion with the National Highway Traffic Safety Administration (NHTSA) about power steering problems.
The recalled cars include the 2002-2005 MINI Cooper and Cooper S and the 2005 MINI Cooper and Cooper S Convertible. MINI says the cars can have problems with a temporary or permanent loss of the electro-hydraulic power steering assistance.
In May 2011, NHTSA opened an investigation into claims of a loss of power steering on the MINI Cooper cars. Two years later BMW extended the warranty to 13 years or 150,000 miles and in July 2014, BMW and NHTSA reviewed the program and any customer complaints.
By September 2015, NHTSA told BMW a recall should be ordered instead of offering only an extended warranty. BMW disagreed the problem was related to safety but decided to issue a recall for cars not already repaired under the extended warranty.
Although the automaker argued the power steering problems aren't related to occupant safety, five reports have been filed alleging occupants have been injured in the MINI Cooper cars.
BMW says the electro-hydraulic power steering system will be inspected and the pump, fan, and/or wiring will be replaced if needed. This recall will supersede the current MINI Cooper extended warranty program.
The recall is expected to begin December 1, 2015, but owners can contact MINI customer service at 866-825-1525.