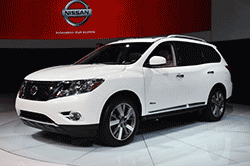 — A Nissan Pathfinder transmission lawsuit will try to get to the bottom of alleged transmission problems in model year 2013-2014 Pathfinder SUVs.
The Pathfinder class-action lawsuit accuses Nissan of failing to warn consumers about transmissions that can cause the Pathfinders to shake and shudder violently when accelerating between 15 to 30 mph. This makes it especially dangerous when it happens in the midst of heavy traffic.
"What the hell? The first time I purchased a car by myself and 8 months later we are jerking at stop lights and pulling and picking to get started before we get hit from behind. Made it to the dealer with a call from the service department after 8 hours to just to tell me that my transmission is shot. I only had the car for 8 months. They order my a new transmission which the service guy said 'its a better one'. I don't want this car back." - 2013 Nissan Pathfinder owner / Bulerson, Texas
"We took our 2013 Pathfinder in because of jerking and shuddering problems after only having it for a couple of months. They replaced the transmission and it drove just fine for a little while. We just returned from a trip to Florida and experienced the same problems and more." - 2013 Nissan Pathfinder owner / Decatur, Illinois
"I was informed today that the CVT Transmission will be replaced for the second time in 33K miles. The most recent one lasted less than 8K miles. What do I do when the extended warranty expires? I can't afford to put a new transmission in the this thing every 8K miles!" - 2013 Nissan Pathfinder owner / Sand Springs, Pacific Islands
The transmission lawsuit could affect tens of thousands of 2013-2014 Nissan Pathfinder owners who might not be aware of the alleged defect.
The lawsuit alleges Nissan concealed the defective transmissions and continued to sell the vehicles through dealerships. The complaint also accuses Nissan and its dealers of ignoring customer complaints in addition to completely denying the complaints.
The Nissan Pathfinder transmission lawsuit was filed in the U.S. District Court for the Southern District of Florida - Batista vs. Nissan North America, Inc.
The plaintiffs are represented by Cory Watson, P.C., Newsome Melton LLP, and Weil Quaranta McGovern PA.