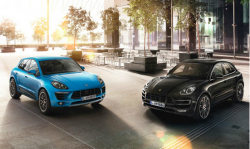 — Porsche is recalling 58,881 model year 2015-2016 Macan S and Macan Turbo cars to replace low-pressure fuel lines inside the engine compartment.
In the words of Porsche, the automaker is "conducting an examination" of the cars, which makes the cars seem more like patients than automobiles. In any event, the 58,881 cars need more than just "examined" based on the serious defect involved.
Porsche says the gas line can leak inside the engine, although there have been no reports of accidents or injuries related to the defect. The automaker says about 21,835 cars are in the U.S., 3,490 are in Canada and the remaining recalled Macan S and Macan Turbo cars are elsewhere.
Saying the recall is "purely precautionary," Porsche said the problem was identified after customer complaints and was quickly fixed in production.
The National Highway Traffic Safety Administration hasn't released details about the Macan recall, including when the recall will begin. However, Porsche said customers can expect the repairs to take about an hour.
CarComplaints.com will update this page when more details are available about the Porsche Macan recall.