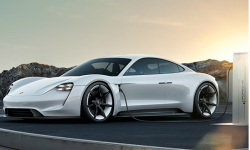 — The Porsche Mission E electric sports car is expected to arrive by 2020 and be a direct competitor to the all-electric Tesla cars already on the market. Saying the Porsche Mission E is "beginning a new chapter in the history of the sports car," the automaker says the car will do 0 to 62 mph in under 3.5 seconds.
What started as a concept car will become a reality as Porsche puts its focus on electric vehicles as opposed to diesel technology. The Mission E has four seats, four doors and an engine cranking out 600 horsepower.
Porsche says the current planned maximum range is about 310 miles with fully charged batteries. An 800-volt charger unit will charge the lithium-ion batteries located in the floor, batteries that could be recharged to the 80 percent level after 15 minutes.
Porsche is also working on optional equipment that would allow the Mission E to be recharged wirelessly via a coil that an owner could install under a garage floor.
The automaker says it wants to make the Mission E the most sophisticated battery-powered sports car in the world. However, how much it will cost to own one is a question currently unanswered.
Porsche will invest over $700 million and create more than 1,000 new jobs to work on the Mission E. Plans call for a new Germany-based assembly plant and new paint shop, in addition to an expansion of an existing engine factory to be used for the Mission E electric motors.
Porsche, a division of Volkswagen Group, is currently embroiled in the emissions scandal that has overtaken VW, although a limited number of Porsche vehicles have so far been affected. Volkswagen said weeks ago it wanted to move away from diesel technology and into electric and hybrid vehicles, and the Porsche Mission E looks to be the first serious move that direction.