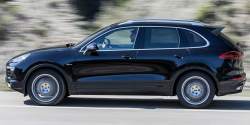 — Porsche is recalling two (2) of its newest 2015 Cayenne Diesel and Cayenne S cars because of problems with the alignment of the suspension.
Porsche blames the problem on a manufacturing error that can cause alignment problems with both the front and rear axles. The automaker says the connections at the camber, toe and caster might not have been torqued to specification.
The two recalled 2015 Cayenne Diesel and Cayenne S cars were built November 26, 2014, to November 27, 2014.
Porsche hasn't said when the recall will begin. Dealers will align the suspension and make sure all the connections are properly torqued.
Owners may contact Porsche customer service at 800-767-7243 and give them recall number AF04.