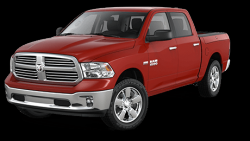 — A Ram truck class-action lawsuit accuses Chrysler (FCA US) of selling trucks with incorrect information on the window stickers.
Plaintiff Robert K. Besley, Jr., purchased the 2014 Ram 1500 Big Horn truck in January 2014, from a dealership in Aiken, South Carolina. The window sticker, called a Monroney sticker, said the 2014 Ram 1500 Big Horn truck had "optional" equipment, specifically the "Customer Preferred Package 26Z," which included a 3.55 Rear Axle Ratio. This was an upgrade of the standard 3.21 Rear Axle Ratio.
Because he needed the 3.55 rear axle ratio for towing purposes, Besley thought paying more would be worth it, until nine months later when he got a call from Chrysler. The customer service rep said the information provided on the Ram truck Monroney sticker was wrong because the 2014 Ram 1500 Big Horn Besley purchased was equipped with a standard 3.21 Rear Axle Ratio.
The plaintiff says Chrysler customer service offered him "750 Mopar dollars" for selling him a truck with the wrong rear axle ratio. But according to the lawsuit, Besley paid more than $750 to receive the increased rear axle ratio, not to mention replacement parts and labor can cost as much as several thousand dollars.
The Ram truck lawsuit says even after numerous discussions with Chrysler, the automaker never offered a complimentary replacement of the rear axle.
The lawsuit alleges Chrysler (FCA US) has been "unjustly enriched" through its false representations on the window stickers and has violated laws concerning breach of contract and misrepresentation. The plaintiff says owners and lessees now have trucks worth less than they should be.
In addition to plaintiff Robert Besley, Jr., the lawsuit seeks to represent any owner of a Ram truck who has been affected by the wrong window sticker information concerning the rear axle ratios.
The Ram wrong window sticker lawsuit was filed in the United States District Court for the District of South Carolina, Aiken Division - Robert K. Besley, Jr., vs. FCA US, LLC f/k/a Chrysler Group, LLC.
The plaintiff is represented by Hopkins Law Firm LLC, and Howser Newman & Besley LLC.