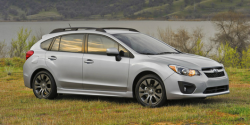 — The 2012 Subaru Impreza airbag system will go under the knife of the National Highway Traffic Safety Administration as NHTSA announced an airbag investigation has been opened.
NHTSA has received 26 reports about the occupant detection system in the 2012 Impreza, primarily complaints about the front passenger airbag. The 2012 Subaru Impreza uses an occupant detection system that classifies the passenger-seat occupant as a full-sized adult, an adult of small stature, a child or some other object.
Impreza owners are complaining an occupant can be sitting in the passenger seat, but the airbag turns off and stays off. That is a serious problem if the car is involved in a crash.
NHTSA says Subaru has known about the problem since at least 2012, when Subaru sent its dealers a technical service bulletin that discussed the issues. A technical service bulletin (TSB) is often called a "silent recall" because it tells dealers there is a problem and how to handle the problem.
However, an automaker isn't required to inform owners about the bulletin like Subaru would have to do if a recall was ordered. The typical situation with a TSB is that dealers know about the problem and have been given directions on how to fix it, but only if a car owner comes in and complains.
NHTSA said the investigation was opened to determine if a defect exists in the occupant detection system and what connection the 2012 Subaru TSB (#17-16-12) has to the issue.
CarComplaints.com will update you with the results of the investigation.