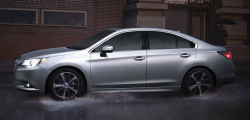 — Subaru is recalling almost 2,900 model year 2015-2016 Legacy 4-door and Outback cars to protect the cars from fires caused by transmission fluid.
Subaru says the problem occurred during manufacturing of the propeller shaft that connects to the transmission. The automaker says the seal cap and seal may be deformed inside the propeller shaft yoke, a problem that can cause transmission fluid to leak.
This is where the risk of fire enters the picture. Leaking transmission fluid from a seal can hit an exhaust pipe and result in a fire.
The recalled Subaru Legacy and Outback cars were manufactured July 3, 2015, to July 27, 2015.
The Subaru Legacy and Outback recall should begin on August 28, 2015. Subaru dealers will need to replace the entire propeller shaft, but until then, owners can contact Subaru at 800-782-2783.
The Legacy and Outback propeller shaft recall number is WQU-56.