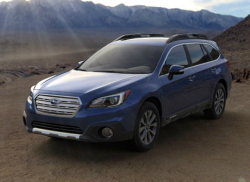 — Subaru is recalling over 3,200 Legacy and Outback cars to prevent gas leaks and fires. The recalled cars include the 2016 Subaru Legacy and Outback, built October to November 2015. Although the end result of the defect could be a fire, to reach that point a few things must occur first.
The automaker discovered the problem on November 17, 2015, during a random inspection in Indiana. Subaru says proper tightening procedures weren't followed for the nuts that secure the propeller shaft to the rear differential. The automaker blames the problem on an improper use of the torque wrench and incorrect contact of the socket to the nut.
The loose connection can cause the propeller shaft to come loose from the rear differential. If that occurs, the propeller shaft could hit the gas tank and possibly cause a leak. A driver will have no warning of a leak other than the smell of gas or seeing smoke or flames.
Subaru says the recall began on December 10, 2015. Dealers will inspect the nuts fastening the propeller shaft to the rear differential and tighten or replace the nuts and bolts.
Owners of the recalled 2016 Subaru Legacy and Outback cars can contact the automaker at 856-488-8500 and use recall number WQV-57.
The Subaru Legacy and Outback were recalled in August for propeller shaft problems and a risk of fire.
In the August recall, the 2015-2016 cars had seal caps and seals that could be deformed inside the propeller shaft yoke, a problem that could cause transmission fluid to leak and possibly cause fires.
CarComplaints.com has owner-reported complaints about the Subaru Legacy, Subaru Outback and other Subaru models.