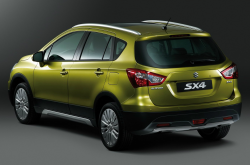 — Suzuki is recalling almost 61,000 SX4 and Kizashi cars to repair the cars before they accidentally roll away. Suzuki says the 2010-2013 SX4 and 2010-2013 Kizashi have shift selectors that can move out of the "park" position without pressing the brake pedal. That can allow the car to roll away unexpectedly.
Suzuki says the shift selector problems can occur if the gear selector is pulled forcefully while at the same time pushing the lever hard toward the passenger side.
The automaker says the detent pin that is part of the shift lock structure may have been pressed in slightly tilted. A tilted pin, in combination with high temperature conditions, can result in the detent pin overcoming the detent wall when the shift lever is operated as described above. When this occurs, the shift lock structure is broken and the shift lock system becomes useless.
The recalled 2010-2013 SX4 cars were manufactured July 16, 2009, to November 1, 2012, and the 2010-2013 Kizashi cars were built October 13, 2009, to October 31, 2012.
The recall should begin about January 19, 2015, when Suzuki dealers will replace the shift selector assembly.
Owners of the 2010-2013 SX4 and 2010-2013 Kizashi may contact Suzuki customer service at 714-996-7040 and give them recall number VL.