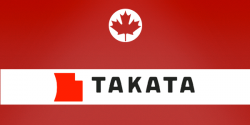 — Airbag manufacturer Takata has seen its share of lawsuits filed in the U.S. alleging the airbags contain defects in the metal inflators that cause the airbags to explode into flying pieces of metal.
Considering the U.S. is full of these lawsuits, Canadian law firms are now entering the rink with their own lawsuits representing residents of Canada.
Three Canadian firms have filed lawsuits against Takata, and a fourth law firm is preparing to do the same. If the legal complaints are certified by a judge, it's likely all the lawsuits will be consolidated into one huge class-action suit.
Three Ontario plaintiffs are seeking combined damages of $2.4 billion Canadian dollars on behalf of owners of vehicles equipped with Takata-made air bags. However, the numbers could change once Takata factors in the fiscal year's earnings forecast.
One of the involved Canadian law firms is Merchant Law Group LLP, which has launched a class-action lawsuit against Takata that could include 400,000 vehicles in Canada. The lawsuit will ask for financial compensation or benefits for affected Canadians who own or lease one of the defective vehicles listed below.
Acura
2002–2003 Acura CL and TL
2003–2006 Acura MDX
2005 Acura RL
BMW
2000–2005 3-series sedan and wagon
2000–2006 3-series coupe and convertible
2001–2006 M3 coupe and convertible
Chrysler
2005–2008 Chrysler 300
2007–2008 Aspen
Dodge/Ram
2003–2008 Dodge Ram 1500
2005–2008 Ram 2500, Dakota, and Durango
2006–2008 Ram 3500 and 4500
2008 Ram 5500
Ford
2004 Ranger
2005–2006 GT
2005–2007 Mustang
Honda
2001–2007 Accord
2001–2005 Civic
2002–2006 CR-V
2002–2004 Odyssey
2003–2011 Element
2003–2007 Pilot
2006 Ridgeline
Infiniti
2001–2004 Infiniti I30/I35
2002–2003 Infiniti QX4
2003–2005 Infiniti FX35/FX45
2006 Infiniti M35/M45
Lexus
Mazda
2003–2007 Mazda 6
2006–2007 Mazdaspeed 6
2004–2008 Mazda RX-8
2004–2005 MPV
2004 B-series
Mitsubishi
2004–2005 Lancer
2006–2007 Raider
Nissan
2001–2003 Maxima
2001–2004 Pathfinder
2002–2006 Nissan Sentra
Pontiac
2003–2005 Vibe
Saab: 2005 9-2X
Subaru
2003–2005 Baja, Legacy, Outback
2004–2005 Impreza, Impreza WRX, Impreza WRX STI
Toyota
2002–2005 Toyota Corolla and Sequoia
2003–2005 Matrix, Tundra
To learn more about the Merchant Law Group Takata airbag class-action lawsuit, visit www.MerchantLaw.com.