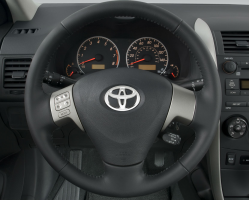 — Toyota has agreed to settle a lawsuit that claims the 2009-2010 Toyota Corolla has electric power steering problems that cause the cars to feel like the wind is blowing them across the road.
In 2010, the National Highway Traffic Safety Administration investigated the alleged electric power steering problems, but closed the investigation in 2011. The investigation was opened after complaints about steering wheels that didn't feel "on-center" and left drivers feeling like strong crosswinds were pushing the cars sideways.
Toyota issued a technical service bulletin to dealers about the feel of the steering and released an optional electric power steering electronic control unit (ECU) with a re-calibrated on-center feel. However, the lawsuit alleges Toyota didn't tell all 2009-2010 Corolla owners about the fix, which caused owners to keep experiencing the problem.
Owners of the 2009-2010 Toyota Corolla have complained for years about their cars pulling to the side of the road.
"The ECU has been replaced, recalibrated; wheels have been aligned, rotated, balanced; the electrical steering is overly sensitive to road surface input. The experienced sensation is high cross wind buffeting. Dealer says everything is normal. I say the car is, therefore, a piece of junk." - 2010 Toyota Corolla owner / Sharpsburg, Georgia
"What happens is when you are on freeway you feel like your car is going to change the lane automatically, it pulls on the side either right or left. It feels like you are driving your car in windy condition. If I leave steering wheel then car pulls on either side, it doesn't go straight, as I guess it is suppose to do. - 2010 Toyota Corolla owner / Cumberland, Rhode Island
The lawsuit says consumers wouldn't have bought the cars if Toyota would have told them about the steering defects.
The plaintiffs didn't get everything they wanted, nothing close to what they wanted. Judge Jesus Gilberto Bernal dismissed all but three claims because according to Bernal, the plaintiffs didn't make specific allegations against Toyota.
If the settlement is approved by the court, possibly 800,000 affected Toyota Corolla owners will receive a refund for repairs already made or a discount toward future repairs of the electric power steering unit.
The Toyota Corolla electric power steering lawsuit was filed in the U.S. District Court Central District of California - Irene Corson et al. v. Toyota Motor Sales USA Inc. et al.
The plaintiffs are represented by Mauriello Law Firm APC, Edgar Law Firm LLC, and Shepherd Finkelman, Miller & Shah LLP.