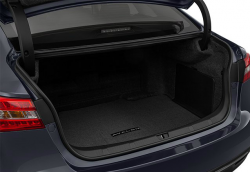 — Toyota is recalling 52,000 model year 2011-2012 Avalon sedans because the speaker system could potentially cause a fire, although not from playing music loudly.
Toyota says the problem is the subwoofer wires inside the trunk. The automaker says anything in the trunk could move around and hit the subwoofer wires and move the wires out of their normal position. If even one of these wires contacts the metal frame of the subwoofer, a short-circuit could occur and cause the speaker to overheat. Overheating wires and materials could cause a trunk fire.
Toyota says it doesn't know when the remedy will be available and the automaker didn't say what remedy it will use. As a temporary fix, dealers will have to unplug the rear subwoofer until real repairs can be made. That pretty much defeats the entire purpose of a speaker system.
Owners of the 2011-2012 Toyota Avalon will receive mailed notification about the subwoofer recall, but Toyota didn't saw when that will happen.
Affected owners can contact Toyota customer service at 800-331-4331.