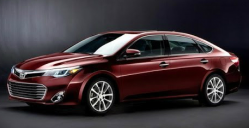 — Toyota is recalling about 31,000 cars that can slam on the brakes even though that's the last thing you need. This is a problem that is occurring on a more frequent basis as more cars are equipped with collision avoidance systems.
Toyota says the recalled cars are the 2013-2015 Avalon, Avalon Hybrid, Lexus ES 350 and Lexus ES 300h.
The automaker says the pre-collision system can interpret a steel joint or plate as an object in the road. The steel object will activate the collision avoidance system and identify the steel as a car driving in front of the Toyota or Lexus vehicle.
Toyota says if this happens, a warning buzzer will activate and the automatic service brakes will suddenly be applied. This means a sudden emergency braking event that could cause all kinds of problems with a vehicle traveling behind the Toyota or Lexus.
Toyota has released only limited information about the recall, but the automaker did say all dealers can do for now is disable the collision avoidance system. The automaker will replace the components as a permanent remedy but Toyota doesn't know when that will occur.
Owners of the recalled 2013-2015 Toyota Avalon, Avalon Hybrid, Lexus ES 350 and ES 300h sedans can call Toyota at 800-331-4331 or Lexus at 800-255-3987.
Expect to see more recalls concerning collision avoidance systems as the National Highway Traffic Safety Administration worked an agreement with 10 automakers to make the technology standard. However, as with all other recalls of this type, the addition of more computerized gadgetry will cause additional problems for drivers.
In June 2015, the government opened an investigation into the 2014 Jeep Grand Cherokee after complaints alleging the autonomous braking system could be activated without warning while driving.
Then in May 2015, the 2014-2015 Acura MDX and RLX were recalled because the emergency braking system could malfunction when the car went near metal such as a guard rail or fence.
Read complaints sent to CarComplaints.com about the Toyota and Lexus cars named in the recall: