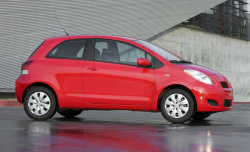 — Toyota is recalling 6.5 million vehicles across the globe to fix power window switches that can catch on fire. This is the fourth recall ordered by Toyota over window switches that can overheat, melt and go up in flames.
About 2 million of those vehicles are in the U.S., all involving the driver-side power window switch.
2007 and 2009 Toyota Camry and Camry Hybrid
2009-2011 Toyota Corolla
2008-2011 Toyota Highlander and Highlander Hybrid
2009-2011 Toyota Matrix
2006-2011 Toyota RAV4
2009-2011 Toyota Sequoia
2009-2011 Toyota Tundra
2006-2010 Toyota Yaris
2009-2011 Scion xB
2009-2010 Scion xD
Toyota says the power window switches might not have enough lubricant grease which could cause an electrical short and create conditions for the switches to melt.
In October 2012, Toyota recalled 2.5 million vehicles in the U.S. to apply special fluorine grease to the driver's side power window master switch. The automaker says this newest recall includes some vehicles not previously included in earlier recalls.
The recall is expected to begin December 20, 2015. Dealers will inspect the switch and apply heat-resistant grease. The automaker will replace an internal circuit board if the switch is not working properly.
If you own one of the recalled Toyota models and have questions or comments, contact the automaker at 800-331-4331. Toyota's number for this recall is C0M.
Car fires caused by grease (or the lack thereof) aren't unheard of, as was seen in a Mazda recall of 1.2 million vehicles from grease in ignition switches.
Additionally, General Motors has recalled vehicles three times to fix driver-side power window switch modules that can catch on fire.
CarComplaints.com has many complaints about the Toyota vehicles named in the power window switch recall. Click on a model below.