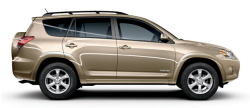 — Toyota is recalling 423,500 RAV4 SUVs to fix windshield wiper problems. The automaker says the recalled vehicles include 421,000 model year 2009-2012 RAV4 and 2,500 model year 2012-2014 RAV4 EV SUVs.
Windshield wipers are made for water, but Toyota says in this case water is the enemy of the wipers. Toyota says water dripping onto the windshield wiper link can cause corrosion at the wiper link joint. The result could be a separation of the wiper link from the wiper motor crank arm. Once separated, the windshield wipers are useless.
The recall is expected to begin by November 16, 2015. Toyota dealers will replace the water diverter channel and a new wiper linkage with a wiper motor crank arm will be installed.
Owners of the recalled RAV4 SUVs who have questions can contact Toyota at 800-331-4331.